When looking for a new dentist, you usually try to find someone that you can have a long-term professional dental relationship with. There are hundreds of dentists in the York area alone, so how do you know you are making the right choice when selecting one?  York is a desirable location for many looking to reside in Pennsylvania for a lot of reasons. Its proximity to other major cities, plentiful job opportunities and many tourist attractions around, just to name a few. White Rose Family Dental wants to help you with the top 3 questions you should ask yourself when choosing a dentist in York.
Are they "in-network"?
In the previous article here, we mentioned the cost savings that you can benefit by choosing an in-network dentist.  Whether you are changing jobs, or just your dental provider-it is wise to choose a dentist that is "in-network" given your dental insurance policy. There can be many reasons to change dental providers; growing family, changing jobs, lower insurance rate..etc. Bottom line is that you want to make sure you are covered, and routine dental care is also covered. Choosing an in-network dentist will help maximize your care, and at the same time minimize your out-of-pocket costs. There are online tools available dental insurance provide that should aid in determining if a dentist is "in-network", for example Delta Dental here makes it pretty easy to find one.  Here are a few more examples:
Are they accepting new patients?
Many dentists will only promote things like emergency services when their practice is operating at full capacity.  They will usually state that they are not currently accepting new clients, which is what you would consider patients looking for routine primary care.  Be sure to do some research and verify before selecting that their office is indeed accepting new patients. You can do this by searching in Google or Bing phases like:
"Dentists accepting new patients near me."
"Dentists accepting new patients near York, PA."
"Dentists accepting new patients in the York area."
After doing so, the results will show a number of dentists prompting you to call or will have a statement on their website if they are accepting new patients or not.  Here is White Rose's example: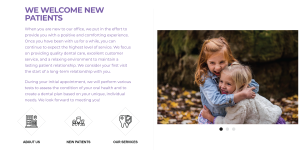 What are their hours of operation?
Another vital question to ask when looking for dental care is what are the operating hours of your new dental office?  Think ahead about when you will most likely visit the dentist.  When are you free?  Do you commute to York for a job? Are you trying to run to the dentist during your lunch break?  What about your kids?  When can you take them for their routine check-ups?  It can be a lot to plan for, but you do want to make sure that you select a dentist that has robust hours of operation.  What good is a dentist if they aren't open when you need them to be?  This is even more important if you have a dental emergency.  Will your new dentist have emergency hours available?  White Rose Family Dental provides robust hours that can accommodate walk-ins and offers additional extended appointment hours.
There are many questions you should ask yourself when looking for a dentist in the York area, depending on your personal situation.  White Rose Family Dental is here to help you navigate through the sometimes-difficult process of finding a new dentist.  With tools and resources made available to you, rest assured that you can find a great dentist right here in York, PA.  If you want to inquire about availability, please call (717) 822-0272 or visit our website.
Other Things to Consider
Emergency care policy
What is their emergency care policy? Depending on the severity of the situation, White Rose Family Dental strives to put their patients first and will try to get you in as soon as possible given the available Emergency Care Schedule.
Reputation
How are they perceived around the local area?  Does anyone you know use them?  How are their online reviews?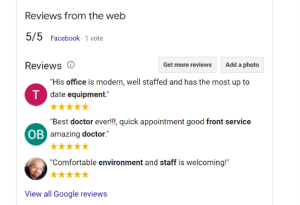 Credentials
What are the Dentist's credentials?  What do they do to stay up to date with advancements in technology and medicine in the industry?  At White Rose Family Dental, the office is equipped with the latest technology. In addition to that, Dr. Kaushal Kapadia DMD takes hundreds of hours of continuing education courses each year.  This ensures that White Rose Family Dental provides the best up-to-date services to all patients.