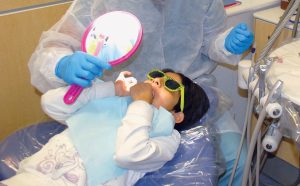 Pediatric dentistry plays a pivotal role in ensuring the overall health of children. Focusing on the oral needs of babies and children, pediatric dentistry not only promotes good oral hygiene and prevents and treats dental problems as they arise, but it also fosters a positive attitude towards dental care that children will carry with them for life. In this article, we explain why parents should find a practice that offers the best pediatric dentistry in York, PA.
Dentists who offer pediatric dentistry are patient, caring professionals who help children feel comfortable while caring for their smiles. These early dental experiences can shape your child's perception of oral health for life. By setting your child up with a good dental health routine, including visits to a dentist, you are making an invaluable investment in their health for years to come.
Achieving oral health is important for many reasons, not the least of which is that oral health directly impacts an individual's overall health. Not only is good dental care important for a beautiful smile, but dental problems, such as gum disease, can lead to systemic inflammation and have been linked to conditions like heart disease and diabetes.
Experts agree that the best time to start seeing a dentist is around your child's first birthday. By starting early, children become accustomed to dental appointments and experience less anxiety before and during appointments. Also, a dentist can easily address dental issues before they become troublesome for your child. At White Rose Family Dentistry, we partner with parents to teach and encourage children to develop and maintain healthy oral hygiene habits as they grow. We love taking care of little ones and seeing their healthy and beautiful smiles develop.
Regular visits to a dentist can provide the following:
Oral health exams for infants and children: These exams will help to assess the risk of decay or cavities and help train parents to better understand how to maintain healthy dental habits at home through nutrition and oral care. If any tooth decay has already occurred, a good dentist can repair the tooth to stop it from creating a bigger problem.
Preventative measures and treatments: Pediatric dentistry can provide extra measures such as fluoride treatments if a child is at risk for cavities. You can discuss these types of treatments with your child's dentist during an exam to see if they would be beneficial for your child. A trained dentist will also easily be able to spot signs of gum or periodontal disease and can help you as the parent to address these issues with regular dental care at home.
Early detection of oral health problems: Some oral health problems are linked to serious health issues like asthma, diabetes, congenital heart problems, hay fever, and more. Your dentist will be able to diagnose such issues and come up with a plan to minimize any other health issues caused by dental health.
Evaluation, diagnosis, and treatment of orthodontic conditions: By bringing your child to the dentist for routine check-ups, your dentist will be able to evaluate the growth and development of your child's teeth and mouth. Problematic conditions such as misaligned or crooked teeth or an improper bite are addressed more easily and often more efficiently if they are caught while the patient is still young. A good dentist with experience in pediatric dentistry will be able to recommend a course of action for your child that will help ensure that their smile is beautiful for life.
Treatment for dental injuries: Unfortunately, accidents do happen. A serious fall or hit can result in damaged or fractured teeth. Already having a dentist that your child is comfortable with can help when you need immediate dental care for such an injury.
A dentist who is skilled in pediatric dentistry can diagnose conditions and concerns that are specific to children. Not all dentists practice pediatric dentistry. Bringing your baby to a dentist who offers pediatric dentistry will set them up for dental health throughout life. The early detection of potential health problems allows for easier treatment that will make both your life and your child's life more pleasant.
If you are looking for a dentist in York, PA, call us today at (717) 822-0272 or click here to schedule your appointment.