As per the American Association of Pediatric Dentistry "Pediatric Dentistry is an age-defined speciality that provides both primary and comprehensive preventive and therapeutic oral care for infants and children through adolescence, including those with special health care needs".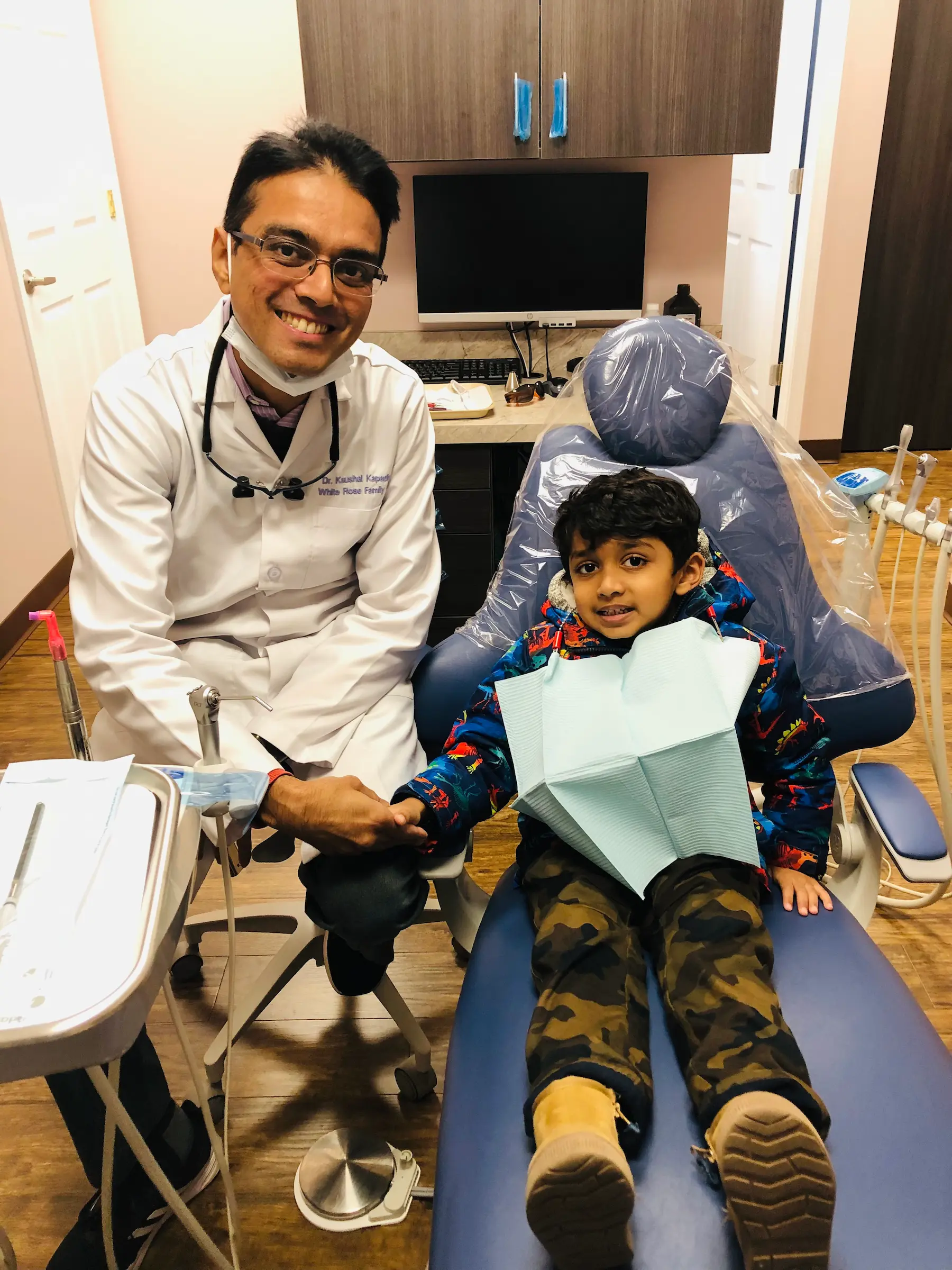 To become a pediatric dental specialist, a dentist must satisfactorily complete a minimum of 24 months in an advanced education program accredited by the Commission on Dental Accreditation of the American Dental Association. Some General Dentists also feel comfortable in offering pediatric dental services based upon their educational background, professional experience treating kids and their level of expertise in this specific field.
Dr.Kaushal Kapadia is not a pediatric dentist but is vastly experienced in treating children. He has been treating pediatric patients since 2002, first in India and then in the US. Additionally, each year he takes multiple hours of continuing education courses in the field of pediatric dentistry to serve the needs of our youngest patients better. We at White Rose Family Dental LLC offer a full range of pediatric dental services ranging from preventive to complex restorative care to children in the York, PA area.
Reasons to choose White Rose Family Dental LLC for your child' dental needs:
A positive, reassuring experience for your kids:
It is normal for children to feel anxious and nervous about an upcoming dental visit; some adults sometimes feel the same. We offer a calm, soothing environment and a gentle, caring approach to provide a positive, reassuring experience for your children at our dental office. We usually practice the "tell, show, and do " technique with our pediatric patients, which means we first explain the child what we are going to do, assuring them what to expect, we show them the exact tools that we are going to use in their oral cavity and explain them how do these tools function thereby not causing them to get alarmed when these tools are used in their mouth and once the child feels confident we subsequently perform the procedure in their mouth thereby making them feel comfortable and at ease throughout the entire procedure.
We offer cleanings, checkups, fluoride treatments and even sealants during their first visit. Fluoride makes their teeth more resistant to tooth decay and sealants help cover the deep grooves and fissures on their teeth making them smooth and less likely to develop tooth decay.
We also identify habits such as thumb or finger sucking, nail biting or teeth grinding at a young age that could have potential long-term harmful effects on your child's teeth. Some of these habits may need a dentist's timely intervention in the form of habit-breaking appliances so as to prevent further damage to your child's dentition.
We try to diagnose crooked or malaligned teeth at an early age and make appropriate referrals to the orthodontist so as to initiate the proper orthodontic therapy at the right time. An evaluation of the child's bite (occlusion) and the jaw position at an early age by a trained dentist is very important in preventing orthodontic issues in the future.
Taking time to explain processes and answer questions:
It is important that a dentist takes the time to listen to the questions and concerns that the parent or the child has about their oral health. Unlike other offices, we at White Rose Family Dental would allow the parents to come and sit in the treatment rooms when their children are being treated. It allows them to participate in their children's care and ask specific questions to our dental team.
We also offer instructions to parents and the child on how to brush and floss their teeth showing them the techniques and discussing the various oral hygiene aids available in the market, including electric toothbrushes and waterpik.
Diet is important to discuss during a child's preventive dental visit. Eating too many sugary foods and frequent fruit juices or carbonated beverages will increase the likelihood of dental caries in your children. Teen vaping or smoking has been on the rise and has detrimental effects on the oral health of teenagers and young adults.
We take time to discuss dietary modifications and provide useful tips on quitting smoking or vaping during routine preventive visits.
Qualifications and Licenses 
Dr.Kaushal Kapadia has been a licensed dentist in Pennsylvania since 2010. He has worked for several years serving underserved communities, especially young children, first in India and later in west Philadelphia. He even volunteered hundreds of hours to serve young children at the Penn Smiles Mobile Dental Clinic in West Philadelphia while he studied at the University of Pennsylvania Dental School in 2008-10.
Penn Smiles is a mobile dental clinic program run by Penn Dental Medicine in Philadelphia, PA that allows kids to have access to quality dental care… right where they are!!!
He also takes multiple continuing education courses in Pediatric Dentistry each year to stay up to date with the most modern and effective treatment modalities available for treating children.
He also possesses and maintains a legal permit for the administration of Nitrous Oxide (laughing gas) for sedation since 2010. He has had extensive experience in treating children of all ages over the past two decades, and we welcome you to make a consultation appointment with us to see what we can offer to help your child in terms of their dental needs.
Insurance and Payment Plans 
We at White Rose Family Dental LLC participate with over 2 dozen dental insurance plans, including some forms of PA Medicaid. Some of the major ones that we participate in include Delta Dental, United Concordia, Cigna, Metlife, Guardian, Blue Cross Blue Shield, UPMC for you, Geisinger and Amerihealth Caritas. Please call our office to inquire if you have any insurance-related questions. Our trained front desk staff is waiting to answer your questions and guide you in the best possible way.!
Going to an in-network dentist can help save the parents hundreds of dollars every year. Unlike most Pediatric Dentists, We not only accept most dental insurances but we also participate with them and do all the paperwork in filing claims and getting paid directly from the insurances thereby limiting out-of-pocket expenses and hassle for the parents.
If your child needs substantial dental work, we can also get "Pre Determination" from your insurance company, thereby knowing exactly what your out-of-pocket costs would be before starting the treatment, thus avoiding any surprises.
We also offer financing through Care Credit offering 6-month interest-free financing for those who qualify.
Please call us at 717-822-0272 or click here to make an appointment with us.
Look at our Patient Reviews
"This is a phenomenal dentist; we had a surgery appointment within a month. I came in today for a second opinion, and they saw the cavity. They filled it in within 30 mins. Unlike Children's Dental Health, this office is very organized, and the dentist makes you feel comfortable."
Nehal Patel
"Dr. Kapadia did an amazing job with my 8 year old son. He was able to squeeze my son in his schedule the next day. He made him feel at ease and was super friendly. Our family is definitely coming back to see him. I would highly recommend Dr. Kapadia as one of the best dentists that my kids have seen"
Roquelyn Bingaman
"My wife and children see Dr. Kapadia now. The boys had been going to a local "children's" dentist and it wasn't going well. It was at the point where both of my children were afraid of going and we were resorting to using the gas to calm them down. I was telling Dr. Kapadia of these issues and he said "Bring them to me."
That was the best move we made. Both boys now receive services without any need for gas and there is no hesitation or anxiety for the appointments. The only downside is since Dr. Kapadia has moved we'll need to come to York. A little out of the way for us, but when you find a good dentist you stick with him.
I emphatically recommend Dr. Kaushal Kapadia without reservation. He has been amazing to me and my family."
Thomas Crawford
"Dr. Kapadia is awesome. I was looking for a new dentist  due to having pain. I called and he saw me on that Saturday, even though his office was not open.
He got me scheduled in that same week to have a root canal and fitted for a crown. While working, he constantly was making sure that I was doing ok.
Went in after receiving the call that my crown was ready.
I am so pleased with all the work he has done so far, and I will recommend him to all my family and friends.
I can't say enough good things about this man.
I have had several bad experiences before Dr. Kapadia and I am very pleased to have found him as my new dentist. He is a very caring man and puts his patients first. Thank you for being an awesome man and dentist".
T F