For some people, the mere thought of visiting the dentist can trigger stress and anxiety. It might stem from a past negative experience, fear of pain, or simply the apprehension of the unknown. At White Rose Family Dental, we're aware of these concerns. We are committed to transforming the dental experience for every patient who walks through our doors in York, PA. This article will explain what we do to make your visit a calm, comfortable, and even enjoyable experience.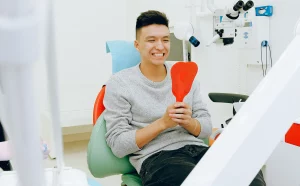 Understanding Dental Anxiety
To start, we understand that dental anxiety is a valid concern. According to the Cleveland Clinic, 36% of adults in the U.S. avoid visiting the dentist because of anxiety or fear. The reasons vary, but some of the most common include:
Past Traumatic Experiences:

One negative encounter can set the stage for a lifetime of apprehension.

Fear of Pain:

Dental treatments are sometimes perceived as painful, especially if the patient has had a painful experience in the past.

Fear of Judgment:

Some patients are embarrassed or self-conscious about the condition of their teeth and fear being judged.
Making a Difference at White Rose Family Dental
At White Rose Family Dental, we acknowledge those fears, and we've taken steps to ensure every patient feels safe, respected, and comfortable during their visit.
Open Communication:

Before any procedure, we make it a point to discuss the procedure in detail. Patients are encouraged to ask questions and voice any concerns they might have. A better understanding of the process can alleviate much of the apprehension.

Soothing Ambiance:

From the moment you walk in, our office exudes a calm and welcoming atmosphere. We've invested in comfortable seating, calming colors, and even soothing music to make the ambiance as relaxing as possible.

Gentle Techniques:

Our dentist uses the latest gentle techniques and technologies. Whether routine cleaning or a more complex procedure, the emphasis is always on minimizing discomfort.

Judgment-Free Zone:

Everyone has their own dental journey, and we're here to assist, not judge. Whether it's been six months or six years since your last check-up, we are dedicated to providing compassionate care tailored to your needs.

Post-Treatment Care:

Stress doesn't just occur before or during the procedure. Sometimes, patients are anxious about aftercare. We provide clear post-treatment instructions, ensuring patients are confident about caring for themselves once they leave the office.
The White Rose Family Dental Promise
To our valued patients in York, PA, and the surrounding communities, our promise is clear. Our commitment goes beyond providing top-notch dental care. We strive to offer an environment where you feel valued, understood, and cared for.
If dental anxiety has kept you from seeking the care you need, we invite you to experience the difference at our practice. And every day, we're driven by the challenge and privilege of making dental care a positive and enriching experience for all.
Schedule Your Appointment Today
At White Rose Family Dental, we understand that the chair can be a daunting place. However, our goal and mission is to change most people's perspective about dentists. With our tailored approach, commitment to patient comfort, and the latest dental technology, we're setting a new standard for dental care in York, PA.
Remember, taking care of your dental health is an investment in your overall well-being. Don't let anxiety hold you back. We're here to guide, support, and ensure your dental journey is smooth and pleasant. To get started, call us today at (717) 822-0272 or click here to schedule your appointment. We are one of the few emergency dentists in York, PA. We look forward to serving our York community with a smile!